Hot Company Spotlight – Drift named #17 in Growjo's fastest growing company list…by doing things that don't scale.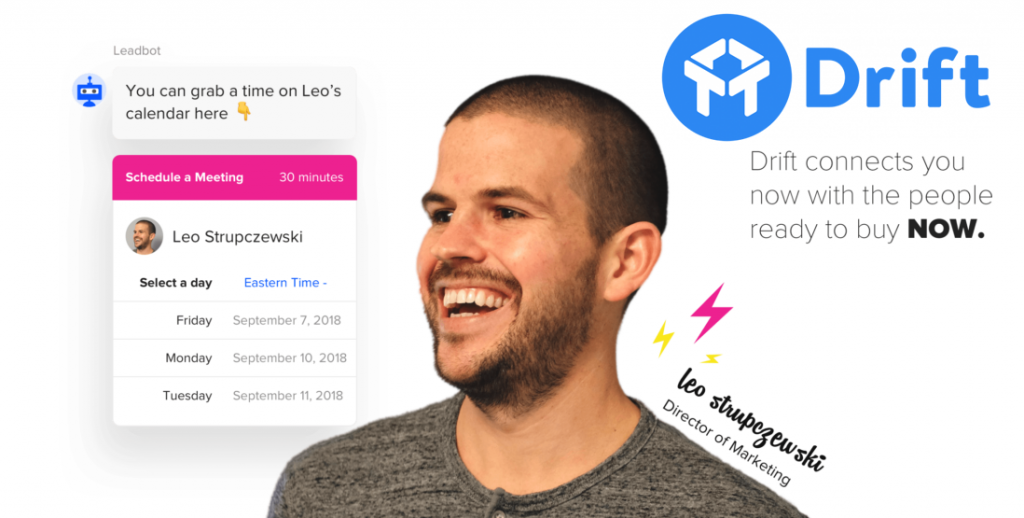 Everyone knows about Drift – not just because of their hypergrowth (they've even got a conference named that) – but because of their company values and core philosophy around doing things that don't scale.

By doing things that don't scale, they focus on people.

By building authentic relationships, they wow their customers.

This unique business strategy secured them the 17th spot on Growjo's fastest-growing company list, with $107M total funding in five years.

To scale, you've got to do things that don't scale.

Drift takes a different approach to their marketing.

They don't adopt aggressive lead generation tactics. Or worry about their funnel metrics every single day.

Instead, Drift cares about conversations over conversions.

On the Growth Hub podcast, David Cancel, CEO and Co-Founder at Drift, shares what it means to do things that don't scale, like showing up and talking to people:

"Anyone in the early days who would want us to talk about anything: I was on the plane. I'm on the bus, I'm on the whatever, I'm going there, no matter what. We did it. I did it for years in the beginning. I'd go talk in front of 10 people, 20 people, whatever, 1 person. It didn't matter. If there was someone, I was gonna go out and reach out."

Drift sticks to the principle of treating people like people, rather than leads – which includes creating great customer experiences.
David elaborates: "We continue to do this. We do it in person, we also do it online. So someone leaves a comment somewhere? I'm replying to that comment. If they have some experience, I'm following up, I'm sending them a t-shirt, I'm sending them books."

He also added that not only would his team give away books they'd written, but they'd also personally deliver them. It's that high level of personal interaction that keeps Drift growing.

Something else that's hard to scale?

Being a great leader.

Without strong leadership, many companies find themselves initially growing only to plateau later. Scaling at hyper speeds requires clear direction from the company's leaders.

Dave Gerhardt, VP of Marketing at Drift, created the Drift Leadership Principles to ensure that everyone on their team works toward the same goal.

These are:

Put the customer at the center of everything you do,
Create a culture of respect and trust,
Practice extreme ownership,
Have a bias for action and deliver daily results,
Seek feedback, not consensus,
Push for high standards,
Stay scrappy and frugal and
Be a curious learning machine.
With these fundamentals, Drift's leaders hold themselves accountable to growing the business. Plus, the principles permeate to every facet of the company. Dave said:

"We put these Leadership Principles at the center of everything we do. We reference them during the hiring process, in all-company meetings and also in our individual manager check-ins."

Great leadership opens the door to building an army of in-house supporters.

Building teams first, not products.

Drift's commitment to hiring talented team members also has contributed to its growth. This investment is their cornerstone for building great products. Dave added:

"At Drift, we believe you build teams first — and the products will follow. As such, hiring and recruiting is one of the engines and systems we invest in the most at Drift in order to make sure we're recruiting, hiring, training and onboarding the right people for the right stage of the company."
Team alignment matters when scaling a business. When teams aren't on the same page, it's easy for business goals to get misinterpreted.

Drift achieves team alignment with constant communication coupled with honest feedback. Dave explained:

"One way we do this is through regular feedback – with our managers and other members of the team. We believe in radical candor, real and honest feedback and showing your work. We also want everyone to be having regular development conversations with their managers (in addition to weekly 1:1s) so they are aligned on where they are and where they need to get better."
To grow quickly, Drift believes marketing isn't limited to people with marketing titles. Marketing is everybody's job in the company. So, when they hire team members, Drift looks for people passionate about serving customers. Dave added:
"Lastly, one of our core values is that we put the customer at the center of everything we do. So we are naturally looking for and drawn to people who are customer-driven — no matter if they are from sales, marketing, design or engineering. Knowing that we are all making decisions to solve our customers' problems gives us a reason to always be our best."

What's next:

Drift will continue their customer-centric strategy. They won't stress over creating the perfect spreadsheets or optimizing another HTML template.

Drift will repeat their unscalable tactics. They will delight their customers and obsess over experiences.

"Our team is focused on building an enduring company by delivering the best possible products for our customers and matching what they need as a modern business today," said David.

"We're proud of what we are creating and thrilled to be recognized for our growth alongside companies like Lime, Bird and Quip."

Check out who made the top ten on our list.