Highlighting Predictive Growth with Growjo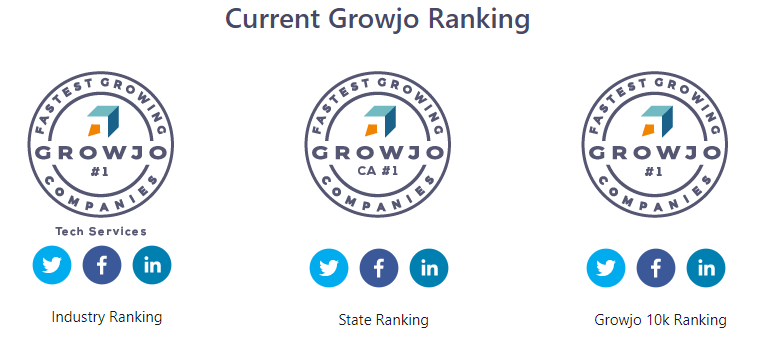 We started Growjo because we wanted to recognize companies that were truly dedicated toward growth. Companies that were poised to making moves in their respective industries. Companies that were growing through multiple growth identifiers that we have seen when using sales intelligence platforms like Lead411. These indicators came from a number of different sources including; hiring trends, recent funding, executive hires, and more.

As we started to look into this data and began to understand the growth trends associated, we thought we could take it one step further. Growjo is intended to identify growing companies sure, but what we found out when devising our algorithm was that Growjo could actually identify companies that were poised for ongoing and future growth as well. Our algorithm isn't about just a few indicators like revenue or total employees, it's about finding trends in multiple data points, predicting growth and presenting that data in a useful and consumable way.

There are other B2B lists out there, inc 5000 and forbes 500 come to mind, and companies can certainly apply for these types of recognition lists, but Growjo is different. No submissions required, and we don't include companies that are over 1000 employees already. (The recognition of companies that are on their way up toward over 1000 employees seemed more appealing then highlighting the Microsoft's and Exxon Mobil's of the world.) We also offer a downloadable .csv file of the companies free of charge, and we recognize each company with unique badges they can utilize on their website, scripted social sharing options and PR templates so it is extremely easy to promote your rank. We want to get the word out that Growjo is a unique way to highlight companies that are growing and poised for future growth.

In the future, we hope to offer content and webinars around how companies can utilize data like this, not only for self promotion and brand awareness, but also for outbound sales opportunities. Companies that are growing are 10x more likely to be adding services and/or solutions in the next 3 months than those stagnant or declining companies. We want to share this data with those sales and marketing individuals that will value this data to "get their foot in the door" with prospects from these organizations. There are endless opportunities to form partnerships, find hiring opportunities, sales needs and/or any other unique ways this data can help connect and strengthen B2B relationships.

About Tom Blue
CEO of Lead411 and original founder of the SaaS1000, Tom is a data junkie, and has utilized his knowledge of data intelligence to devise Growjo as a unique list research organization, designed to highlight companies that are growing and poised for future growth. Recognizing a need for more intelligence driven company growth rankings, Tom created Growjo as a free and "no submission necessary" service that will highlight the top 10K growing companies in the world, as well as respective U.S. state rankings and industry rankings.

About Jeremy Unruh
As Marketing Director for Lead411 and marketing professional for over 14 years, Jeremy saw Growjo as a real opportunity for companies to be recognized for their growth efforts, and having this data in one consumable location will highlight the need to understand these companies better, through content contribution, interviews, webinars and education. Jeremy's goal with Growjo was to eliminate the hassle of filling out submission forms in order to be recognized, and making promotion seamless and easy through downloadable badge rankings, pre-built PR templates and auto-filled social content to share. Eventually we will have webinars and the opportunity for outreach to these companies, which is a well-known and considerable asset for any sales professional.